Redmond House Cleaning and Maid Services
The Best Choice for maid services in Redmond, WA is clear.
Life can be more than working at your job and going home to clean your house. Our busy schedules leave little or no time for family and fun because house cleaning chores are waiting. If this sounds familiar, then relax, because Mrs. Clean is here to help you enjoy more spare time.
Mrs. Clean is a trusted cleaning service in Redmond, WA, Ames Lake, and Union Hill-Novelty Hill. Your home, your business, its contents, and your peace of mind are number one with us. Our professional cleaners will keep your home consistently spotless so you can have chore-free days and weekend services.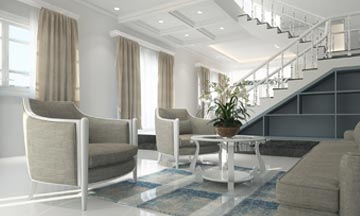 When you choose a professional cleaning service, you will see results right away. Even your most-used rooms will sparkle and shine with our thorough Redmond maid services.
If you have special cleaning requirements, let us know how we can better serve you. Mrs. Clean cares about the service that you receive, and we're not satisfied if you're not. Of course, your quality service is 100% guaranteed.
We want to save you time by doing the heavy duty cleaning for you, it's what we do. That way you can use your spare time for social activities like stopping by Redmond Town Center or taking a walk in Marymoor Park.
Getting Started with our Maid Services
Your first maid service is a deep cleaning tailored specifically to your needs. After the deep cleaning we will work with you to schedule routine (maintenance) house cleaning services that are convenient to your schedule.
We provide all the cleaning supplies, vacuums and the equipment needed to tackle the toughest dirt and grime, and leave your home or office sparkling, bright and shining clean.
Our services are designed to fit your needs, with no contracts to sign and no hidden charges. You are provided with friendly and professional Redmond maid services at a reasonable price.
House Cleaning Redmond and Office Cleaning Services
Whether we are doing routine house cleaning, deep cleaning, move-in cleaning, move-out cleaning, or a custom house cleaning service, we'll clean it right. We can clean your office and even perform annual spring cleaning.
Plus, we will schedule your maid service at a time that fits your needs and schedule.
Call Us Today for a Free Cleaning Estimate in Redmond, WA
Call the Pacific Northwest's best house cleaning and maid service for a higher level of clean. We offer guaranteed consistent, high quality maid services day after day, week after week, month after month, all year long.
Get started by requesting a free estimate online. Enter your home specs, and we'll reply to you in email with a custom estimate just for you.
Call Mrs. Clean for the best house cleaning service and maid services you can get.
See why we've been making Redmond homes sparkle since 1975.
Standard Cleaning Services
Clean & disinfect bathroom floors
Clean & disinfect bathroom sinks & countertops
Clean & disinfect toilet, tub & shower
Clean inside microwave
Damp wipe cabinet exteriors
Load dishwasher
Clean kitchen sinks & counter tops
Damp wipe appliance exteriors
Clean stove top
Ceiling fans & light fixtures dusted
Spot clean fingerprints on doors and walls
Clean & shine mirrors and glass
Vacuum floors & ceiling vents
Dust all windowsills & ledges
Vacuum & mop all hard floors
Vacuum carpeted areas
Remove cobwebs
Clean baseboards
Dust lamp shades
Dust & polish furniture
Empty trash
Dust & vacuum upholstery
Pick up and straighten room appearance
Take a Look at our Client Reviews
---

Mrs. Clean has cleaned the Redmond Chamber of Commerce for years. We can always tell when the offices have been cleaned, it smells so good. It is wonderful to have the bathrooms cleaned on a regular schedule. We are so thankful for their services
Redmond, WA Chamber of Commerce: Beryl Standley
---

Mrs. Clean has been a very dependable and wonderful cleaning service. I have used them for years and have been very happy with the results and the thoroughness of their work. I use them for what I call the seasonal deep cleaning! They do a great job! Thank you Mrs. Clean!
Mo Pfister: Redmond, WA Home Owner
---

Today I had the pleasure of Mrs. Clean cleaning my home. The women were extremely attentive to every detail, positive and super nice. I have lived in 5 states and had multiple cleaning services, yet never has one taken this much care and "elbow grease" into their work as these two women did.
This was my initial "deep cleaning" and they worked very hard. For three hours straight they didn't even take a 5 minute break. You rarely find people that work that hard and with that much pride these days.
Thank you, Thank you, Thank you!!! I can't wait to have them come back!
Angie Crowe: Redmond, WA Home Owner
---

My condo had not been cleaned in 2 years. It was vacant and in bad shape. I was afraid it would not sell. I could not believe what it looked like when Mrs. Clean was finished. The condo was cleaned exactly as I had asked. The time that was quoted and the money spent were exactly as specified. It was a wonderful job. It was a miracle. The condo sold.
Barbara Higgins: Redmond, WA Home Owner
---

I wanted to say that the team that cleaned my home this morning did an EXEMPLARY job. They did everything on my priority list and MORE! I was so happy when I returned home because I couldn't find anything that they missed and was pleased to see that they went ahead and found extra jobs to tackle to make my home feel cleaner than usual. A big thank you to them. Is there any way I can request that they be my regular cleaning crew?
Adrianne Kwak: Redmond, WA Home Owner
---

Crew were very friendly and professional, and worked purposefully the entire time they were there.
Chris Schweitzer: Redmond, WA Home Owner