Seattle House Cleaning and Maid Services
Mrs. Clean of Seattle specializes in cleaning houses, apartments and condominiums. We are a Seattle based house cleaning service where you can customize your cleaning services to meet the specific needs of your home.
With Mrs. Clean house cleaning services, you'll get an honest to goodness clean home from maids that are trained, dependable, and efficient house cleaners.
Your home is safe and secure with Mrs. Clean's maid service. We carefully screen all of our employees prior to being hired to clean your home with e-verify, criminal background checks, and references.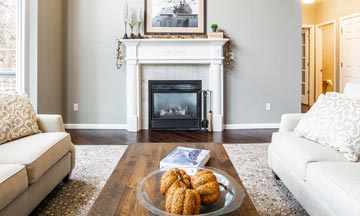 Mrs. Clean's professional house cleaning service / maid service provides you with a higher standard of clean and is the clear choice for Seattle cleaning services.
From our shining customer service, to your sparkling clean home, Seattle has counted on Mrs. Clean for cleaning services since 1975. Mrs. Clean sends licensed, bonded, trained, and trusted house cleaners to your home, providing dependable, professional and thorough house cleaning services.
With Mrs. Clean's maid service you will find yourself on the plus side of some extra time. You can spend some time with family and friends engaging in social activities, visiting Gas Works Park or heading to Pke Place Market.
Live More. Clean Less
House cleaning and maid service isn't a luxury any longer. House cleaning services will save you valuable time so you can attend to other things.
Finding the time to fight dirt and grime is hard. If you're tired of your messy house and want someone to help you with the house cleaning, Mrs. Clean is here to help you with your house cleaning chores.
We can do your spring cleaning, office cleaning, move in or move out cleaning, deep cleaning, we can even customize your cleaning.
We have a 100% satisfaction guarantee on our services, and we are committed to providing high quality house cleaning and superior customer service.
Our cleaners are employees, not sub-contractors. All taxes, insurance and Workman's Compensation Insurance are paid by the company. This means you'll never have to worry about taxes or injuries that may occur on your premises.
Our maids are carefully pre-screened and evaluated on an on-going basis to assure the very best house cleaning service for our customers. To minimize employee turnover and encourage the best from our best cleaners, our employees receive merit increases based on customer feedback.
Mrs. Clean's House Cleaning service doesn't mess around with dirt.
House Cleaning Seattle and Office Cleaning Services
Our teams are serious about making your home sparkle. We arrive ready to clean, with all the cleaning supplies and vacuum equipment needed to make your home or office sparkle and shine.
Our maids are house cleaning professionals, dedicated to your clean home, customer service and cleaning excellence.
Enjoy your free time because your maid service is licensed, bonded, insured, trained, trusted and professional.
Whether we are doing a routine cleaning or deep house cleaning service, move in or move out cleaning, office cleaning, or customized cleaning service on your home, condo, office or apartment, we'll clean it right.
Free House Cleaning Service Estimates for Seattle, WA
Mrs. Clean is a Pacific Northwest company. We're not a house cleaning franchise or referral service. We care about our services to you, and we're not satisfied if you're not. See why we've been making Seattle homes sparkle and shine.
The difference is clear. Your quality cleaning service is 100% guaranteed.
Seattle's cleaning service choice is sparkling clear. High quality house cleaning services at an affordable price.
Get started by requesting your free Seattle housecleaning estimate online. Enter your home specs, and we'll reply via email with your custom estimate, just for you.
See why we are cleaning up Seattle one house at a time.
Take a Look at our Client Reviews
---

I just wanted to let you know that the two women that came out to clean our apartment were really great. They were professional and friendly, and did a great job. Thanks so much for the excellent service. We'll keep you in mind for all of our future cleaning needs.
Alison Billings: Seattle, WA Home Owner
---

We love our cleaning team, Tia, Nicole & Charla. They are hard workers and we are very happy with both their cleaning, and their pleasant easy-going natures. They have taken over my pet cleaning peeves: the cat hair off of the couch and cleaning out the bottom of the toaster oven, with a smile. My husband, Jonathan, hopes that they will work on his pet peeve: cleaning the baseboards more often, however.
We love, love, love Roberta, and she seems to be loved by the cleaning team as well. We have had scheduling issues for which she has always provided solutions. Also, last year during the snow, she took her client list home to continue client communication from her residence. Our previous cleaning service "no-showed" several times without a call. Roberta calls to confirm even the slightest changes in the schedule.
I am also very happy with the billing coming from Mrs. Clean. I am billed promptly after my date of service so there is no confusion about which charge belongs to which cleaning service. It seems like such a simple concept, but my previous cleaning service was so disorganized that they double charged us twice (I do not believe that this was done intentionally).
Thank you for your service,
Nancy Hanson: Seattle, WA Home Owner
---

Thanks a lot for cleaning my apartment yesterday. I was surprised to see how my apartment had become clean and neat, when I came back home last night. Honestly, I think it is cleaner now than when I moved into the apartment… I was so impressed by the quality of work done by your crew yesterday. (In addition to that, they were polite and very nice people.)
Now that I'm so satisfied with the overall experience provided by you, I would like to ask you to come to clean my apartment on some regular basis. It would be great if the same crew (as who came yesterday) can come, but others are also okay. (I believe you have a high quality standard.)
Ren Ando: Seattle, WA Condo Owner
---

I recently finished a three year remodel and was overwhelmed by the amount of cleaning need prior to my move in. I called Mrs. Clean and they not only cleaned, they took on the toughest jobs first, the bathrooms and kitchen, and left them sparkling. I don't think I could have moved in the following weekend without their help. I would recommend them to any of my friends, not only for the big jobs but for everyday cleaning needs.
Kathi Jones: Microsoft Alumni President, West Seattle, WA Home Owner
---